Licensed Vegetarian and Vegan Restaurant

The GREENHOUSE
Sadly, The Greenhouse closed on 2nd August for evaluation and the decision to cease trading was made on the 20th August. The keys have been handed back to the landlord and there are no plans to re-open elsewhere now or in the future. I'm in my 70s and have retired now. The Domain Name, DineVeggie.com will not be renewed so the website will eventually vanish and the e-mail address will be discontinued at some point in the future.
EXCLUSIVELY VEGGIE DAYTIME EATERIES IN CENTRAL MANCHESTER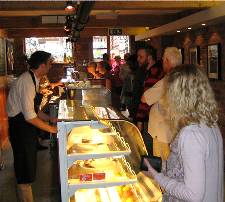 In Manchester's Northern Quarter, Earth Café, located down a flight of steps in the basement below the Buddhist Centre at 16/20 Turner Street, Manchester M4 1DZ re-opened Summer 2010 with a revised format. There is a lift from the Buddhist Centre down to the basement but as there are still steps to negiotate from street level to ground floor, disabled access is difficult. Opening hours: Mondays, Wednesdays and Thursdays 11am - 4pm; Tuesdays and Fridays 11am - 8pm; Saturdays and Sundays 10am - 5pm. In addition to serving it's excellent range of vegan food the café will be used as a venue for a wide range of events. I've added Earth Café to my regular weekly visit list. Further details can be found on their website by clicking on the adjacent photograph.
Heading south along Oxford Road towards Rusholme is the well established (celebrated their 40th anniversary in 2010) Eighth Day Vegetarian Shop and basement café. In addition to the stairs there is also a lift for disabled access to the café. Opening Mondays to Fridays from 9am until 7pm and on Saturdays from 9.30am until 4.30pm. I usually manage to enjoy my lunch here at least once a week when I can combine my visit with some shopping. Manchester Vegetarian and Vegan Group meet here on an informal drop-in basis from 1pm until 4pm on the first Saturday of each month, new faces always welcome!